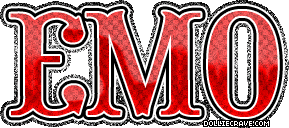 sapa suka org emo? zzzz..manede..sumer org bngang ngan org emo..tp kdg2 org x seda, diri sdiri pon emo gak~~ aku bngang bile org emo tp ak diam sbb kdg2 ak pon emo..TAPI...xyah la kau nak emo 24jam, 7 hari seminggu!!! adeh penat r layan org emo..asik nk kena jaga ati dia je..klu x nangis la, majuk la, tarik muka mcm siput sedut!!! aaaaaaaaaaaaaaaaaaa....
grow up people! kita bukan budak2 kecik lg..xyah r fikir that this world revolve around YOU!! sikit2 aku boleh tahanlah..tp bila dah bertahun2 kau sgt full of urself smpi xnmpk that u r hurting other people--sape pon xleh saba..i can b a VERY good listener but i can also be a VERY blunt advisor...aku da nasihat, ikot r..ni tak..ak da kata, jgn wat camtu, ko wat gak..bila org x suka ko sedih2 ala2 drama melayu dulu2..susa la weh....
frens..igt r..kita sumer dibesarkan dgn cara yg bbeza..ada yg mmg manja dr kecik smpi ke tua..ada yg independent n tak needy..ada yg needy smpi nk mkn pon xleh sorg2...ada yg da biasa jd center of attention..ada yg xsuka org manje2..haaa..pandai2 r korg adapt idop dlm msyrkt...ak nk focus kat ciri manusia yg da biasa jd tumpuan nih..based on experience, dorg ni r yg plg susa kite nk work with...sbb sumer nk kna ikot ckp dia..ada yg pndai conceal..konon2 bolh terima kritikan..tp diam2 dia fire blk..xpon bile kena kritik sikit, dia majuk..buat muka muncung smpi muncung tu ak boleh sangkut hanger.. =P jgn r troskn sikap ni..org x suka..sometimes things are NOT just about YOU!!
ak tau skrg ak pon emo..hahaha..tp bkn sbb ak slalu emo tp sbb ak da bosan, penat, n sakit jiwa mlayan kerenah org emo..give n take..tolerate..accept the imperfection of other ppl..tolonglah..klu x camne malaysia nk maju klu asik kna pk perasaan je..aduhai..
nak emo btempat r ok! klu bila pakcik guard mengaruk tahan2 org kt Um n suro bayar RM100. then u can emo..hahahahah..pakcik um pon emo gak..apsl sumer org emo nih..hahahahha..